The Famous Players completely surpassed all expectations for the Woodward/Kohn wedding. We have received nothing but unbelievable praise and complements on your performance. You combined Toni and my requests while superseding our wildest dreams. I cannot reiterate how much you added to our wedding and we are so thankful for your involvement.
Many thanks,
Stephen & Toni
I had only known Famous Players by reputation, having been turned on to them by a friend with the Safeway Foundation who brought them in for a gala benefit. Needless to say, I was blown away by their performance, as were my guests.
In all my years of event planning I have never seen such an enthusiastic response to a group of performers as I did with FPB. Dealing with them was a delight, from contract phase right through post-performance, they were superstars but never prima donnas. I'd bring them back again in a heartbeat.
David Crosson
Institutional Events Coordinator, SAIT Polytechnic
Project Lead, Trades and Technology Complex Grand Opening: the Crystal Ball
When I say you are rock stars I mean it both literally and figuratively! My client couldn't have been happier and I have to say you are all so talented and professional that you are, as always, a pleasure to work with. Thank you very much for everything that you have done to make this event a complete success. I received so many great compliments and want you to know that I appreciate that you guys always go the extra mile. So thank you – thank you so very much.
Kelly Clarke
Production Manager, Creative & Production Services
Cantrav Services Inc.
"No words can express how thankful we are to of had you guys perform on our special day on July 30th at the Pinnacle at the Pier Hotel in North Vancouver.
Our guests LOVED you and were in awe by how amazing you guys were!!!!
Kim & Bill
"I just wanted to email a huge thank you for helping make our wedding day extra special with the amazing band you set up for us! We had a blast and the band was so talented and very friendly. Everyone had so much fun dancing to the great music!"
Taylor & Chris
"We just got back from honeymooning in Kauai, and I wanted to spend a few minutes to write you to express my (our) gratitude for you guys rocking the house for our wedding.
We had the best day of our lives and have so many wonderful memories the big day/night, a major highlight being the music. Starting off with the hora was amazing! and although, i am somewhat biased i can say with a fair degree of certainty that was one of the wilder hora's of all time. The music kept getting better and better and it was great to look out at the dance floor and see all generations of our guests dancing up a storm. People loved the medley with under pressure, ice ice baby and quite a few were surprised to hear the outfield in your repertoire. I also wanted to say a personal thanks for making the encore happen! it was so much fun and a perfect way to end what was already a high energy evening."
Dave and Colleen
"You guys rocked!! My guests can't stop talking about how incredible you guys were. Thank you!!
Nicole Tolmie
"I just wanted to thank you guys for last night. It was absolutely awesome!
Everyone couldn't stop commenting on how great the band was. Thanks for making it a really special evening!"
Dara Raitt
"A BIG Thank You to you and the rest of Famous Players Band for your amazing performance at the Diamond Ball on Saturday! You were phenomenal and we have heard nothing but fantastic reviews about Famous Players Band – everyone had a great time dancing to your music :)"
Jocelyn Kwok
Coordinator, Diamond Ball
"I have attended many, many weddings but never in my experience have the guests requested an encore; I was afraid they weren't going to let you leave! Our guests just couldn't get enough of you guys and the band was a huge part of the reason that our wedding was so memorable"
John and Nancy Seni
​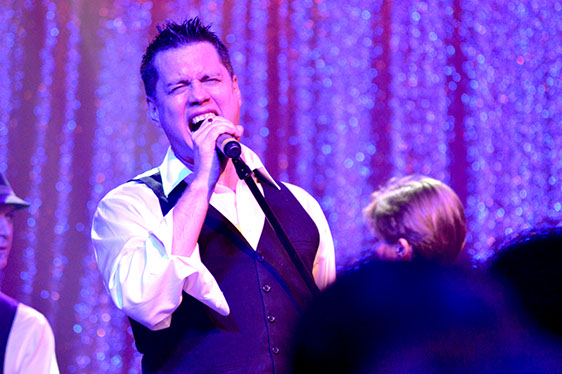 "The band was INCREDIBLE!!!! Truly amazing".
-Chris and Caitlin
"We had an absolute blast! Famous Players Band rocked! A psycho, full-contact dance party!"
-Stephen Baker
One word - awesome! Thanks so much for providing us with GREAT music and energy on our big day. You guys totally rocked!
All our best,
Candace and Chris
"Awesome performance last night! Not very often that you see a hearty encore from a corporate function. You have officially set the bar!
Shawn White
Glaxo Smith Kline
"The band was out of this world!"
Jennifer Alter
Event/Conference Manager
Ovid Technologies
"This band never fails to entertain an audience - the greatest party band I've ever seen!".
Jason Grant - Talent Buyer, Live Nation
"An exceptional performance!"
William Holms
Pricewaterhouse Coopers
"Famous Players Band was just fantastic! Everyone was dancing and didn't want to leave at the end of the night. All our guests said it was the best band they've ever heard at a wedding!"
Thanks again,
Sarah and Chris Wood
"WOW!...you guys were fantastic - thank you so much for an amazing event, I couldn't have done it without you!!! I have received so many compliments about last Saturday and everyone mentions what a great band we had!
Laura Finlayson
The Vancouver Club
"I just wanted to thank you and the band for a wonderful performance. We didn't want it to end. We've had many, many compliments on the band since Saturday night. You guys were
absolutely amazing!!!!"
Thank you for helping to make our wedding day so magical.
Take care,
Tasha
"Thanks again to you and your awesome band for doing the job that thrilled the masses!I was getting comments all the next day as people were transferring to the airport. Your being as great as you were helps me to also look great to our client, and I thank you for that!
I hope we can work together in the near future!
Sylvia Jehle
Cantrav Destination Services
"You guys were AWESOME! We've had nothing but positive feedback about the Famous Players Band! We loved having you at the wedding!
Shannon
"Your band was great to watch the other night. Diverse and captivating are words that come to mind."
Janis Correia
"I could have danced all night! The band was amazing!!!"
Sheilagh Mans
Kenneth Gordon School Gala
"All the employees said that this was the best Christmas party we have had here so far. Your band gave a great performance".
Patrick Gosselin
Director of Conference Services